CAB power plant solution
Unique system for processing and dewatering slag, bottom ash, fly ash in coal power plants. Unrivalled solution creates huge savings for the energy producing industry. CAB is the only manufacturer who offers this technology.
Initial situation: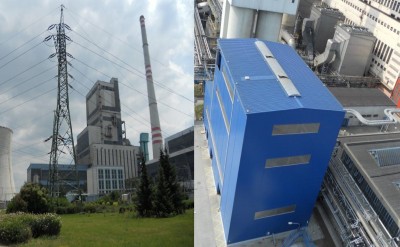 3 coal power plants with a total of 2.9 MW boiler capacity and 1.05 MW electrical capacity (9 boilers)
Quantity of solids (slag): 65 t/h (0 – 30 mm)
Ash (bottom ash and fly ash): 16 t/h < 0,063 mm (63μm)
Moisture content of the slag: 97 – 98 %
Operating cost before investment:

3000 m3/h water from a river were pumped to the power plants for coal cooling. From there the slag was pumped to a pond in a distance of 5 km.
energy consumption for this transport were 1500 kW/h (24 h/365 days).
dirty overflow of the pond went back into the river. Sedimentation had to be excavated.
deposit cost for this were EUR/year 4,0 Mio + energy cost for pumping.
wear of pumps and pipes in addition.
Situation today
Capital expenditure for all 3 plants: EUR 19,5 Mio
Amortisation of investment: appr. 4 years
Quantity of water (total) after investment: max. 1.100 m³/h. Recycled water is used in circulation. Additional water from the river is only 50 m3/h.
Moisture of the end product: 25-28%