Hydrocyclone technology basic
In hydrocyclone coarse fraction material reports to the underflow in a thickened concentration and very fine material reports to the overflow with minimal misplaced material in either stream.
The creation of the Cavex® hydrocyclone came out of the focus on finding better solutions – a design that delivers maximum efficiency, maximum capacity and longer wear life than conventional involute or tangential feed cyclones.
The interchangeable inlet wedge (purple inset, pictured above) allows the operator to quickly and easily vary the inlet size. This provides the ability to fine tune the hydrocyclone's performance without physically removing it from the process line.
The use of drop-in Cavex® replacement wear liners, manufactured from Linatex® premium rubber, reduces maintenance costs due to superior resistance to abrasion.
Specific combinations of Linatex® premium rubber and high quality ceramics are available for lower cones and spigots which are designed to provide an even wear pattern within the hydrocyclone.
Typical particle trajectories in a hydrocyclone.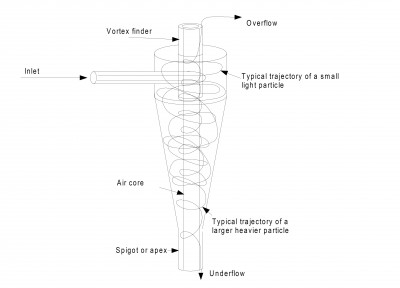 Important values to choose correct size hydrocyclone.
slurry capacity
cutting point
solids capacity
Although there are many complex formulas to calculate cyclone size it´s possible to imagine simple speed when separation take place before slurry pass cyclone.
This makes feed pressure measuring by manometer most important.