Warman WBH Heavy Duty pump
Compared with the current horizontal slurry pump technology*, this pump can offer: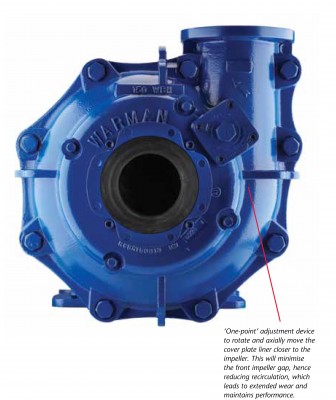 Less maintenance.
Less power usage.
Longer wear life.
Higher performance.
The Warman® WBH® slurry pump range offers more than 20 enhancements to the already state-of-the-art Warman® AH® slurry pumping technology, including a fully adjustable and rotatable throatbush to more evenly spread the wear and maintain the pump in tip-top performance for longer periods.
Boasting a revolutionary one-piece frame for correct alignment of bearings, seal and impeller to front liner; as well as easier access for impeller adjustments, the WBH® pump was built with enhanced efficiency and operational savings in mind.
Warman® WBH®
Heavy duty slurry pumps for a range of mill duties, from dirty water to the most difficult water flushed crusher services.