WEIR Minerals KHD crusher
High Pressure Grinding Rolls – Crushing and grinding for ore and minerals processing
High Pressure Grinding Rolls (HPGR) were introduced as a new grinding technology in 1984. Since then, they have been successfully installed in a large number of plants throughout the world, mainly for cement and limestone. More recently, HPGRs have also been applied in mineral processing plants, largely in iron ore and diamond treatment. In these industries, the application of HPGR ranges from coarse grinding, e.g.the grinding of 65mm (2.5") size excess pebbles in AG circulation loops, to final grinding of <100μm material to high Blaine values in the preparation of pellet feed.
Operating principle
High pressure grinding is achieved by an advanced type of grinding roll. Contrary to conventional crushing rolls, the particles are broken by compression in a packed particle bed, and not by direct nipping of the particles between the two rolls.
The cost of wear is of major importance in the minerals processing industry. Therefore, KHD has given wear protection top priority. By developing a patented highly wear resistant stud-lining of the rolls, KHD has thus taken a leading position worldwide. The HPGR is capable of handling particle sizes up to approximately 80mm.
A High Pressure Grinding Roll produces a particle size distribution (PSD) that is wider, with more fines, than a tertiary crusher (e.g. cone crusher) would produce. The reason is that the compressive force not only acts on the coarse end of the PSD, but throughout the particle bed on both coarse and fine particles, including the fine particles derived from the initially coarser fractions.
Design and process data
Company/location: Empire Iron Ore Mine | U.S.A.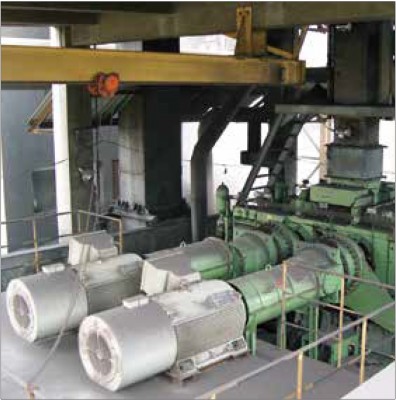 Roll diameter: 1,400 mm
Roll width: 800 mm
Feed material: iron ore pebbles (pre-crushed)
Feed moisture: 3%
Top feed size: 63.5 mm
Final grain size: 50% < 2.5 mm
Throughput rate: 400 t/h
Specific energy consumption: < 1.7 kW h/t
Specific press force: 5.1 N/mm2
Motor size: 2 x 670 kW
Lifetime of studded tyres: 17,000 operating hours
Design and process data
Company/location: SNIM | Zouerate, Mauritania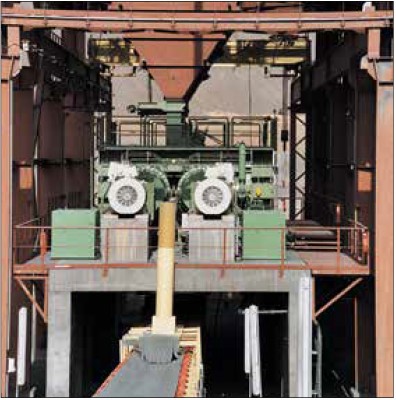 HPGR model: RP 16 – 170/180
Roll diameter: 1,700 mm
Roll width: 1,800 mm
Feed material: Coarse iron ore
Ball Mill Wi: 11-15 kWh/t
Feed moisture: 0-0.5%
Feed size: -20+1.6mm
Product size: 65% < 1.6mm
Throughput rate: 1,800 t/h
Energy consumption: < 1.0 kW h/t
Specific press force: 2.7 N/mm2 (max)
Motor size: 2 x 900 kW
Lifetime of studded tyres: 5,000 operating hours